Reviewed by Jemma (Aged 11) Meet Jemma
Pollo di Nozi, a reporter in training, with her sheep sidekick Shorn Connery sets out to find the truth in a very big investigation at Riddle Gully.
Pollo has to find out about the weird things that are happening at Riddle Gully. Pollo believes she has a major scoop on her hands in her hunt for the Graffiti kid. But is Will the new boy going to get in the way of Pollo and her big mystery?
Kids who love to read mystery and adventure will enjoy this book. This book is best for the older kids about ten years and above.
I am not a big fan of reading and I joined Kidz Review Krew so that I would force myself to read more. But even though I don't usually enjoy reading, I loved this book so why not give it a try.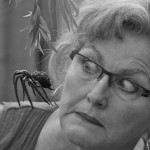 I was a big fan of Enid Blyton's Famous Five mystery series and of Rider Haggard's adventures set in Africa. When life proved frustratingly safe, I imagined intrigue and danger in the everyday. (Everyone does that, right?) Although I'd always loved story-writing, it took twenty-odd years of study, travel, work and parenting before I got down to it seriously. From a career in non-fiction, it was fun writing stuff in which anything was possible. After a few community courses, I returned eventually to the University of WA, where post-grad studies morphed into the PhD in creative writing I'm working on now.
I live near the ocean and Reabold Hill bushland with family, a cat, some bossy possums who live in the roof and the ghost of a friendly old dog. Aside from writing, I like to swim, kayak, take photos, hang out at lacrosse grounds and accost my ukulele.